Estate fence installation guide
Start /End Posts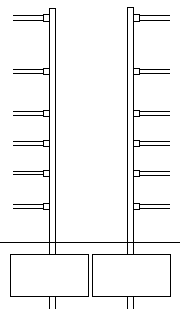 Every run starts with these posts. Installing start / end posts please ensure the pre-welded tubes point in the direction of the fencing as indicated. As with all start/end and gate posts these should be concreted into the ground for fence rigidity.
Middle Posts

Once start posts have been installed, as with all posts the middle posts (posts with only pre punched holes and no tubes) are placed every 1030mm FOR 5200MM RAIL LENGTHS AND 1000MM FOR 6M RAIL LENGTHS.
Note: For TYPE TWO posts we recommend concreting in all start/end posts and every other middle post.
Railings
Once the fifth middle post has been installed you can then start to slide the railings though the pre determined holes or slots. Railings are cut at 5200/6000mm in length so that at the end of your fifth middle post each rail should overhang the last post by approximately 30mm. You can then start your next run of middle posts. Once installed, slide the rails back though the posts so that they meet up with your previous set of railings then use the sockets (for round bars rails) and nuts and bolts (for flat bar rails) to join the railings. (for 6m rails no need for overhang simply connect at the 6m point then continue with next run of fencing. N(see right side drawing)
When you arrive at your final metre of fencing the last railings will have to be cut to length to suit your last post. Simply slide your rail through the last post and cut appropriately. We supply extra railings to allow for measuring mistakes. Where the flat bars are concerned they will have to be drilled to pick up the slots in the last post. Both round and flat rails can simply be cut using a grinder with slitting disc or a hack saw.