Estate Fencing | Parkland Fencing
Estate Fencing, We are the leading suppliers of Estate Fencing in the UK. We offer a range of services in estate fencing in London, Yorkshire, Midlands, Derbyshire, Norwich and the whole of the UK. Our estate fencing specialists are experts in Estate Fencing in the UK. Swift Engineering are specialising in the manufacturing of high quality estate fencing at affordable prices. We can provide and install Estate Fencing anywhere in the United Kingdom. Our estate fencing is ideal for use as a continuous boundary fence in parkland, paddocks, deer parks, estates or estate grounds. Our estate fencing is suitable for enclosing your livestock including cattle, horses, deer and sheep or just as a decorative feature.
Install estate fencing in the whole of the UK.
We manufacture steel estate fencing based on the original period fencing used in parks and estates. Estate Fencing manufactured and supplied to your specifications anywhere in the UK from £23.00 +VAT per meter (delivery extra). Our prices are determined by location and quantity of fencing. For an exact quote please contact us with the length (in meters) of fencing required and your location. Estate fencing has a traditional railing style that everyone associates with country parks and rural estates. It's been around for years but can look rough, and ancient. Estate Fencing is well known in the United Kingdom, in the shires of Surrey and Hampshire as well as the West Country around the Cotswold Hills, in the rolling hills of England, steel fencing is used as horse and livestock barriers.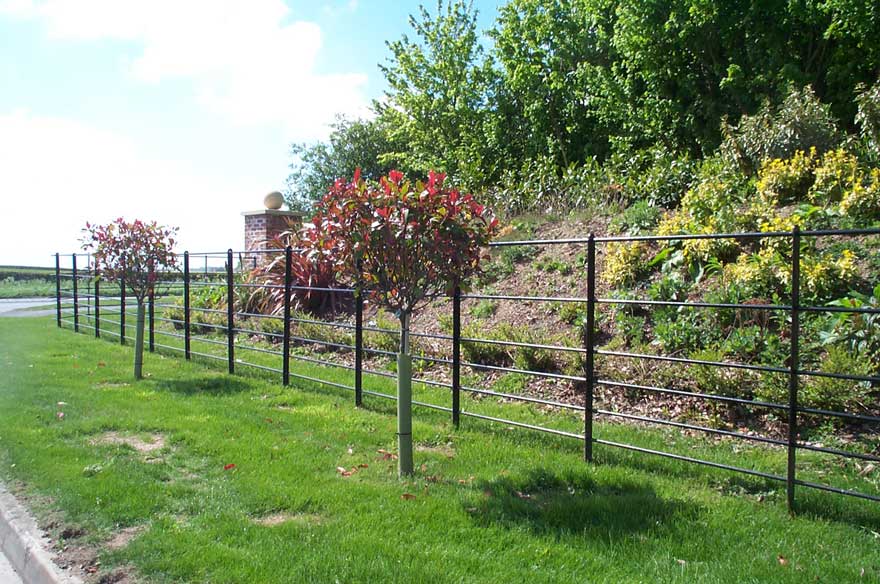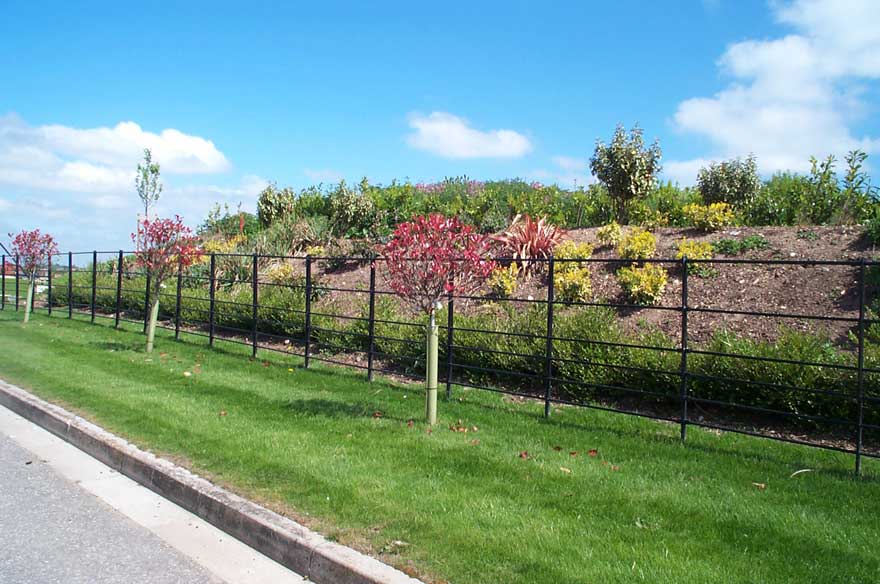 We are experts in Estate Fencing in the whole of the UK.
As standard we produce three types of fencing type one, type two and flat bar, however we may be able to manufacture to suit your needs. If you have an existing design you would us to manufacture to then please send us in your details and we will be happy to send out best quotation. Our estate fencing is suitable for all types of land and soil. All estate fencing types are installed in exactly the same way. Start posts are placed at the start of every run and middle posts placed every meter with either a support post or support socket every fifth or sixth meters for extra rigidity. We have installed many miles of fencing in a wide variety of soil types. The Estate Fencing can be electrostatically painted in the colour of your choice: green, black and even white, etc. All our fencing designs can be supplied in bare metal, hot dip galvanised, powder-coated or galvanised and powder coated.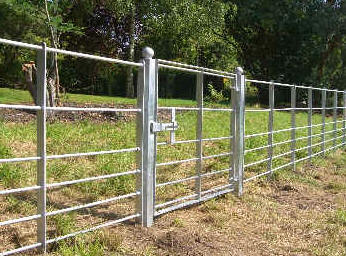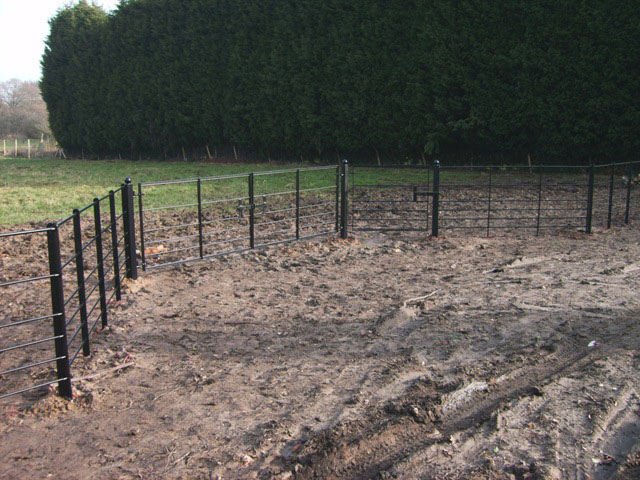 If you wish for either a bare metal finish or galvanised finish and want to paint your fencing once installed then we can supply our special high build vinyl paint to be applied direct into the fencing surface without pre-treatment. One tin will cover approximately fifty metres (50M) and costs only £40-45 Plus VAT per tin. These tins can be mixed to match and RAL colour of your choice.